A mound system is used when a site has inadequate soil depth between the ground water table and the drainfield preventing the use of a gravity or pressure distributed drainfield buried below grade. A mound system consists of a drainfield constructed above the natural soil surface by means of a manmade mound which contains a specific sand fill material.
Stressed anaerobic mound returning wastewater to the water table and leaching wastewater to ground level.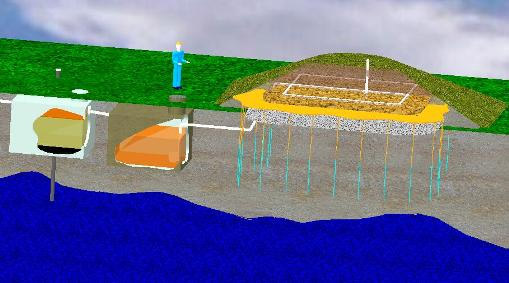 Within the sand fill is a gravel bed with a network of perforated distribution components, typically PVC pipes. Septic tank effluent is pumped in controlled intervals through the pipes to insure uniform distribution throughout the bed.
Final treatment of the effluent occurs as it filters through the sand and into the natural soil. Drainage around the mound site is critical if the system is to function properly. On sloping sites the down slope area below the mound must remain protected.
If an altenative septic system is required, we often recommend and install Norweco systems.